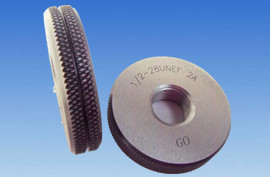 One of the important tools that you could never afford to run out in your tools room is your Metric thread tap, UN thread tap or any other thread tap that you may be using in your production unit. You will be in constant need of your thread taps as thread taps are known for frequent breakage. 
The sourcing cycle will vary from company to company. The volume of sourcing will also vary depending on the number of components tapped per day, per week and month. You cannot set a random sourcing calendar for your thread tap. It has to be decided based on your need. 
Remember that if you have custom UN thread tap requirements, you will not be able to place last minute orders and have the thread taps delivered to you overnight. Your manufacturer will require some decent time for manufacturing your thread taps. They will also need time for shipping your orders. When you are planning your thread tap sourcing cycle, you should keep in mind all these factors. This lead-time will depend from one manufacturer to the other. Therefore, you need to talk to your manufacturer to understand their regular turnaround times for processing your order. Your order volume will also have a say on the turnaround time. Take into account all these factors before you select your manufacturer and before you plan your yearly sourcing calendar.
The best practice is that you should have adequate stock of thread taps for the next two cycles. In other words, you should be ordering two cycles ahead of your requirements so that even if there are any glitches with the processing of the order or with the shipping process, you will have enough buffer time. This will minimize the downtime pertaining to delays in the delivery of your thread taps.
Before you could actually plan and schedule your sourcing cycle, you should have identified your preferred vendors. In order to spot your preferred vendors, you should be investing a considerable amount of time to review several manufacturers. In case you are sourcing from a manufacturer in China then the sourcing process could get highly challenging. All these however do not mean that there are not any good suppliers of thread taps. It just means you need to make cautious moves because oversights and mistakes here could lead to many disadvantages and losses. You could easily be overcome all these challenges by careful planning and sourcing.
The cost of the thread taps will vary from time to time. You need to take advantage of these fluctuations too and stock your inventory when the prices are low. Look for the most dependable suppliers of thread gauges from China. They should have their own manufacturing facility, assure you exceptional quality and offer you the best prices. If you could find such a supplier with the fastest turnaround time then you will get the best value for your money and enjoy hassle free thread tap sourcing process.